Check the gallery page to see knives from the past to get Idea of what can be ordered
Ordering: If you want to order something send me a email at scout_knives@yahoo.com telling me what you want and I will send you a paypal request for the money. This is for managing inventory.
Thank you
Payment

I take Paypal, or you can e-mail me to make arrangements for money orders or cash options. All prices cover shipping to the lower 48 states. I have shipped to other countries, just email me and we will take care of where ever you need it shipped at a fair price.
Warranty

I have a NO BS warranty. As long as I can swing a hammer I will fix or replace the knife for free, as long as you are using it for a cutting tool, and not pry bar or jack hammer.
Steel Specs
1084: Carbon .85/ Mang. .82/ Sil. .27/ Cr. .15/ V. .027/ Nickel .08/ Boron .003
o1 Tool steel: Carbon .95/ mang. 1.25/ Cr .5/ W .5/ V .2
1095: Carbon:.99/ Mn: .42/ Si: .22
PERSEVERE™
Designed by Chuck Cook in Dundee, Oregon
This 5-in-1 survival tool becomes a splitting wedge, knife, axe, chisel, and adze. Even in an arena full of variables, don't let anyone tell you you're not prepared for anything.
Blade Length5.416" (137.57 mm)
Blade Steel65Mn Carbon Steel, HRC 52-56
Blade FinishPowder Coating
Blade Thickness0.160" (4.06 mm)
Overall Length5.416" (137.57 mm)
Due to the high cost of shipping in the CRKT box you have two options now, flat rate shipping it comes without the CRKT cardoard box for $30 to your door, or in the CRKT box to your door for $35.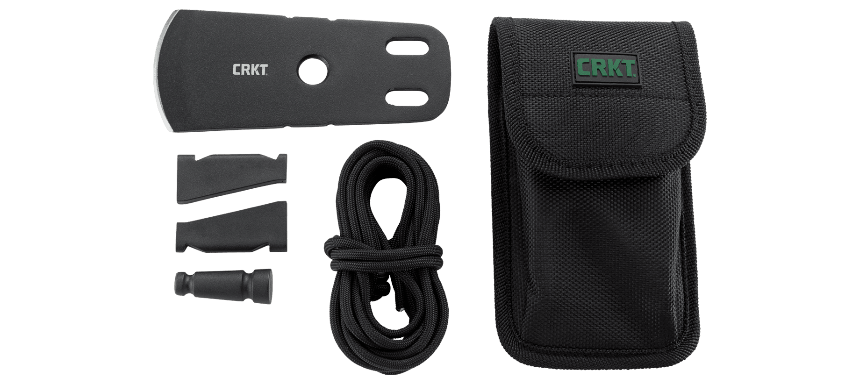 Hand forged logging cable Damascus hunting knife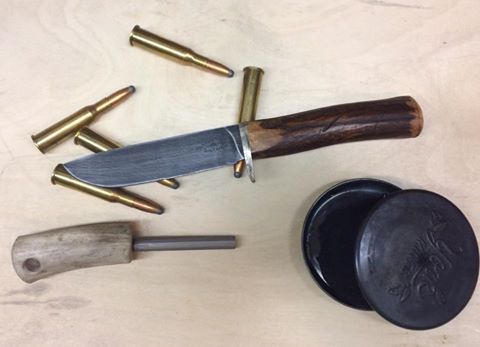 The Chopper
This half knife half hatchet is Forged 5160 1/4" thick the blade is 6" long and 2.625" wide at the widest point. The back has been rounded for comfort. With a mustard patina. The handle is 8.5" long with brown micarta and stainless pins. For an overall length of 14.5". Make camp, take apart a deer or make a fire board as needed.



9" long hunter
Forged 3/16" thick 1095 spring steel with stabilized spalted holly handles.


Hand Axe
This is my do most things survival tool. The top picture shows the three basic ways they come set up, but they can be ordered with different options. It is made from 5/32" 1095 spring steel and has been parkerized to help protect it from rusting. I have a whole page on this site set up talking about the different was it can be used.
The three basic set ups are as follows:
1. Hand axe with kydex cover. $80
2. Hand axe xl (1/4"). $90
They can be ordered with Black, Brown, OD Green, Orange, or Pink kydex and parra-cord. If you want a custom color contact me and we will see what wee can do, plus they can be had with whistles and fire starters for added cost.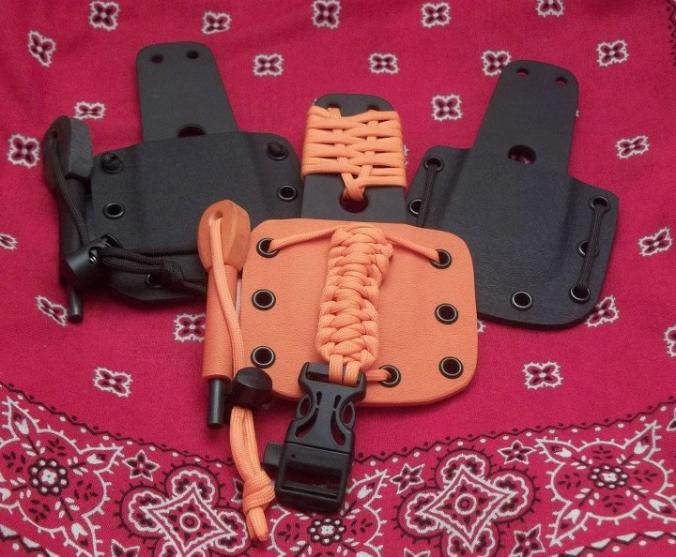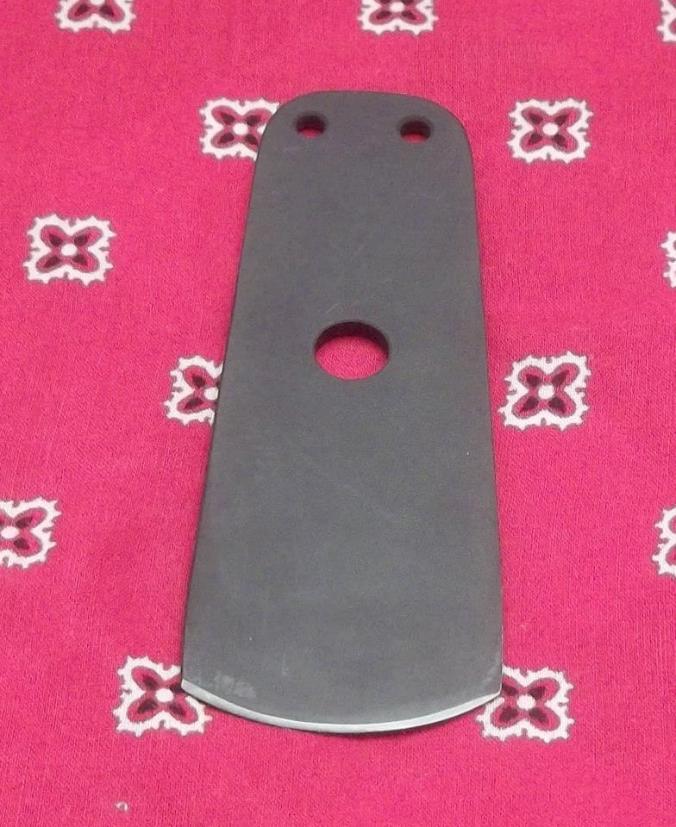 XL axe plain, 2.5" wide and 1/4" thick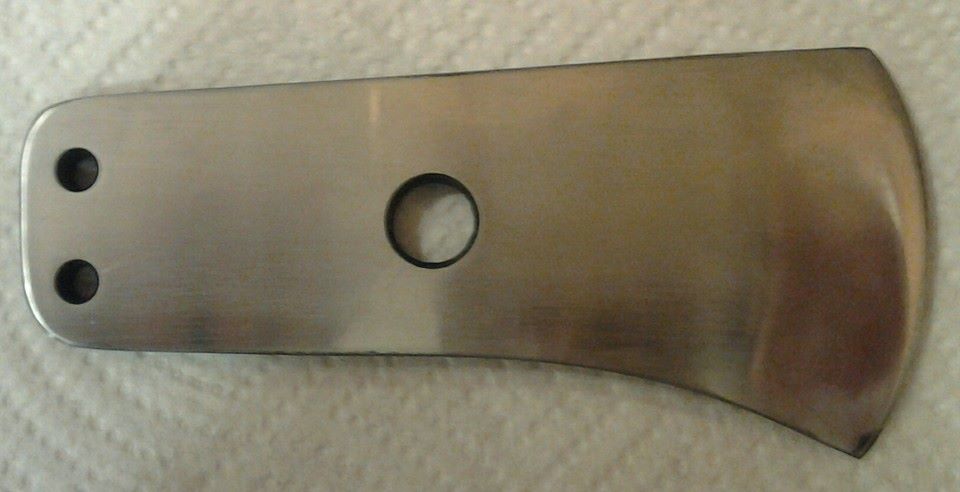 Survival Tin Axe
I'm selling my survival mint tin axe, I make them 1084 spring steel. It is 3.5 x 1.5 x .125 the center hole is 7/16 back two holes are 3/8 of an inch. While I normally take my knives to a high polish but I left these as a machine finish. weight roughly 3 ounces.
$45 Plain $55 Parkerized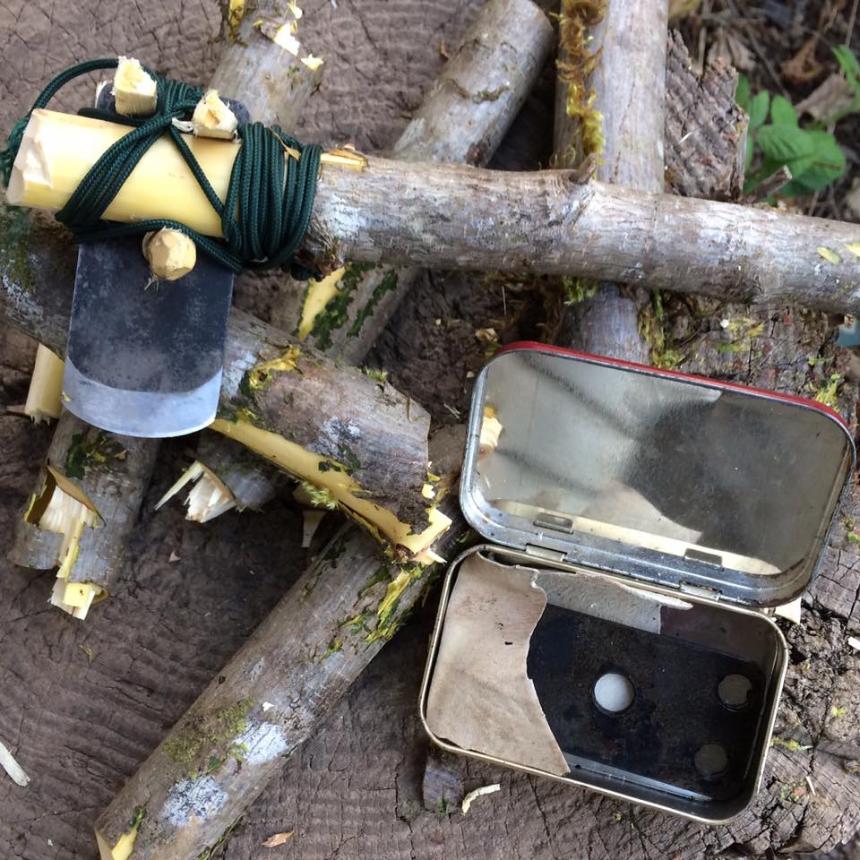 Mama Bear Knife Shield
A food grade protection for all your high carbon knives. It's made from several organic cooking oils and pure bees wax. So what can it be used for besides protecting your knives, bow drill socket lubricant, fire starter, add a wick and have a candle, lip balm, cook with it and I'm sure a hundred other things. It now comes in two versions standard and Infidel edition. The infidel version has organic pig lard as a main ingredient,

they are $6 each.