9" 1095Tanto with pine cone handles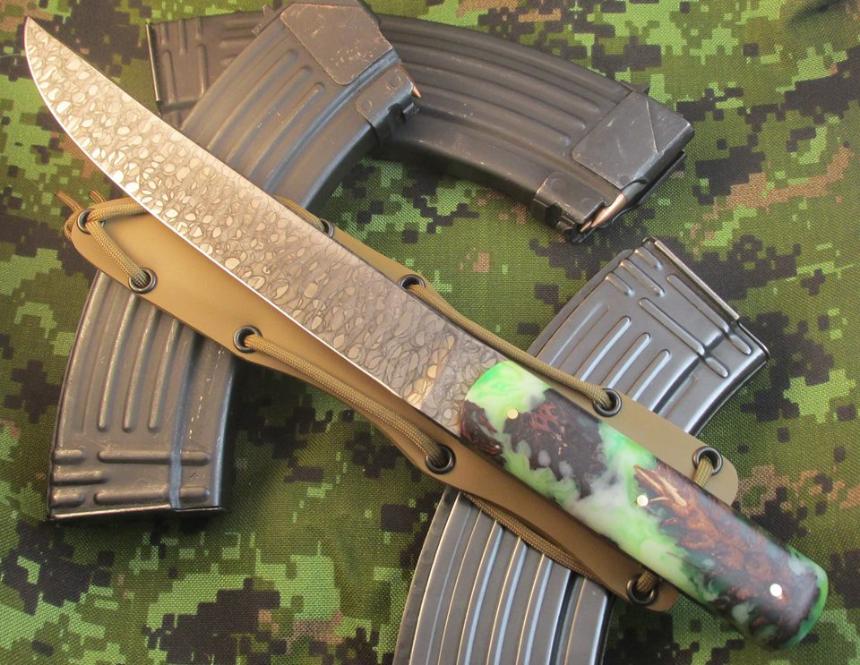 9" 5160 tanto with micarta butt cap

7 " 1095 tanto with micarta butt cap, FDE parra cord and turks head knot guard.
Toxic green under cord expoied

Medium Folder
Both examples here have bolsters, they can be had with or without bolsters and several titanium liner thicknesses.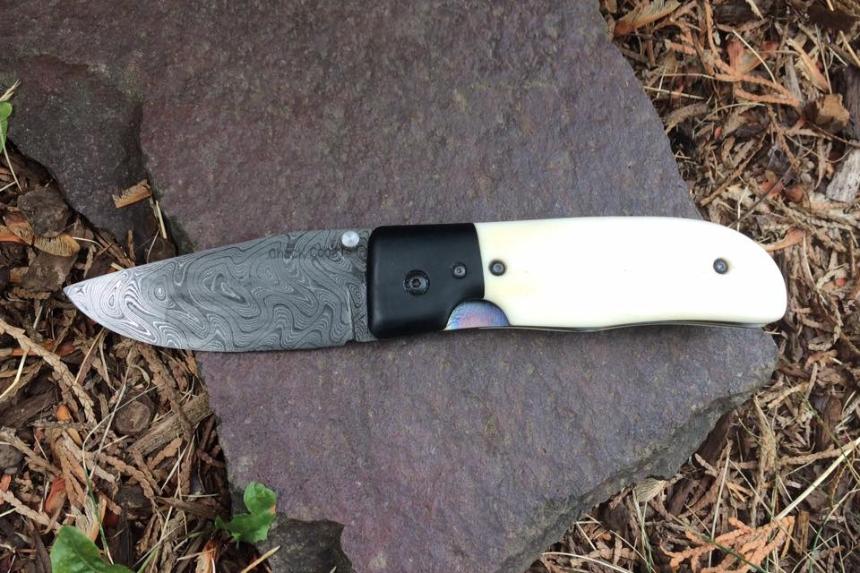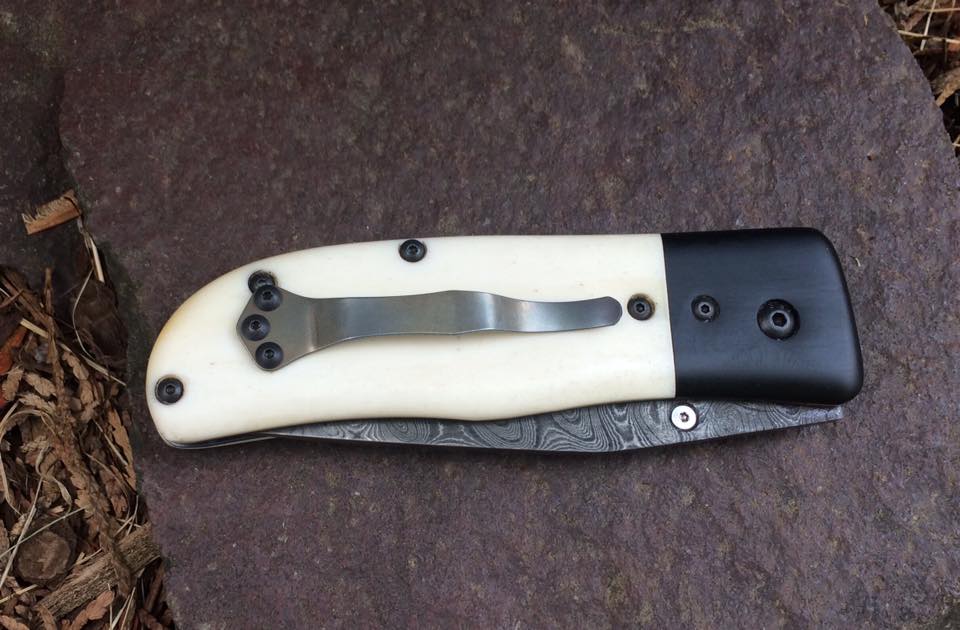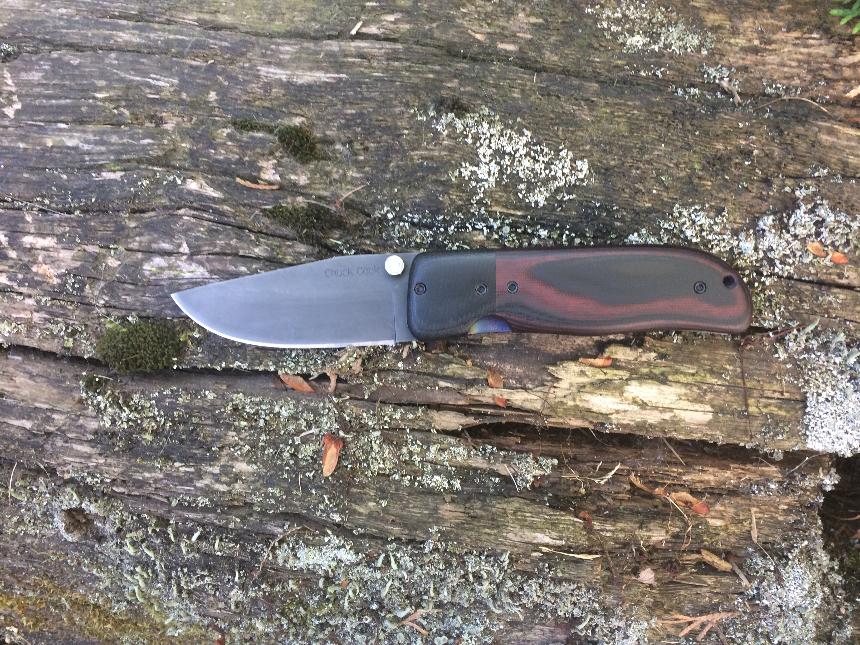 Royal hunter
Knife is made from a old file with purple box elder handles. Blade is about 4 inches long with mustard patina.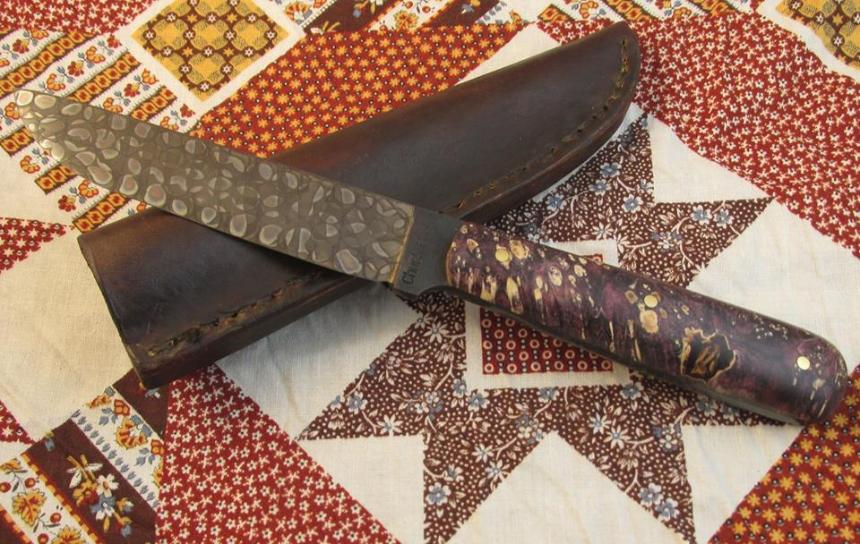 Light Weight Hunter (LWH)
1095 4" blade small hunter with .125" thick blade, and maple handles. It has a leather pouch sheath.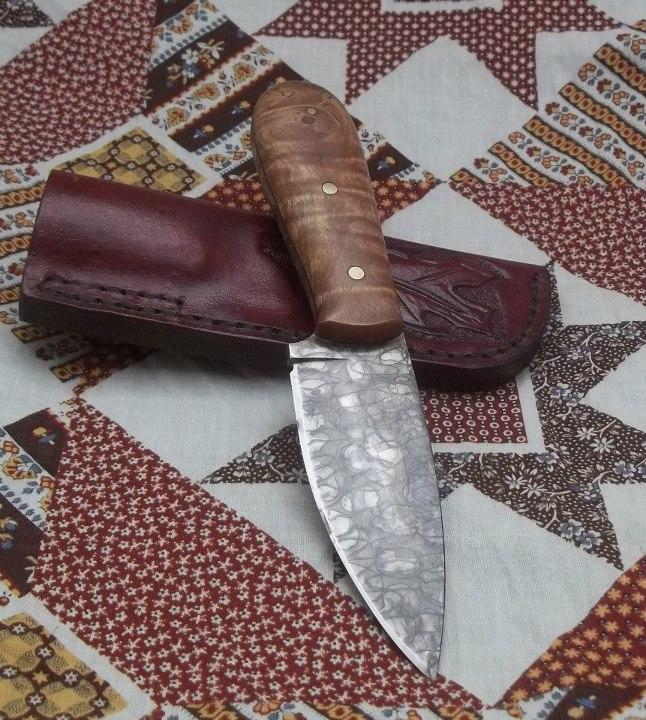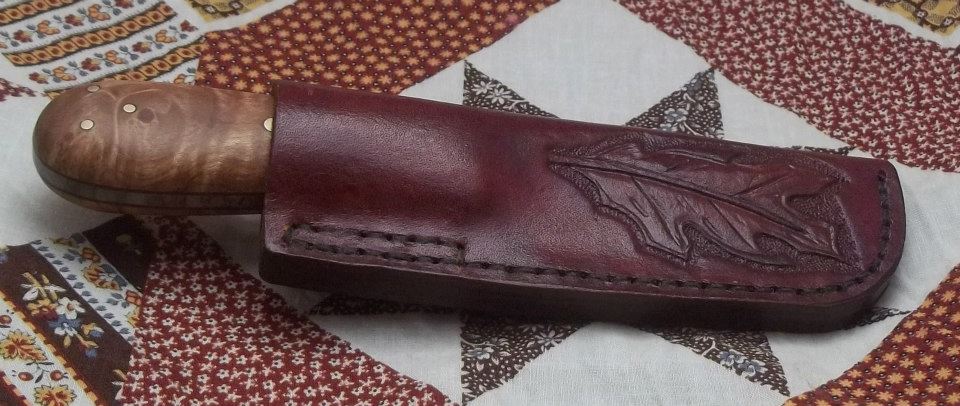 Northwest Hunter (NWH)
The 4" long, 1.5" wide 1095 blade provides more then enough cutting surface for the avid hunter. They can be had with kydex or leather sheaths or even a kydex with thin leather cover sheath set up for small of the back carry.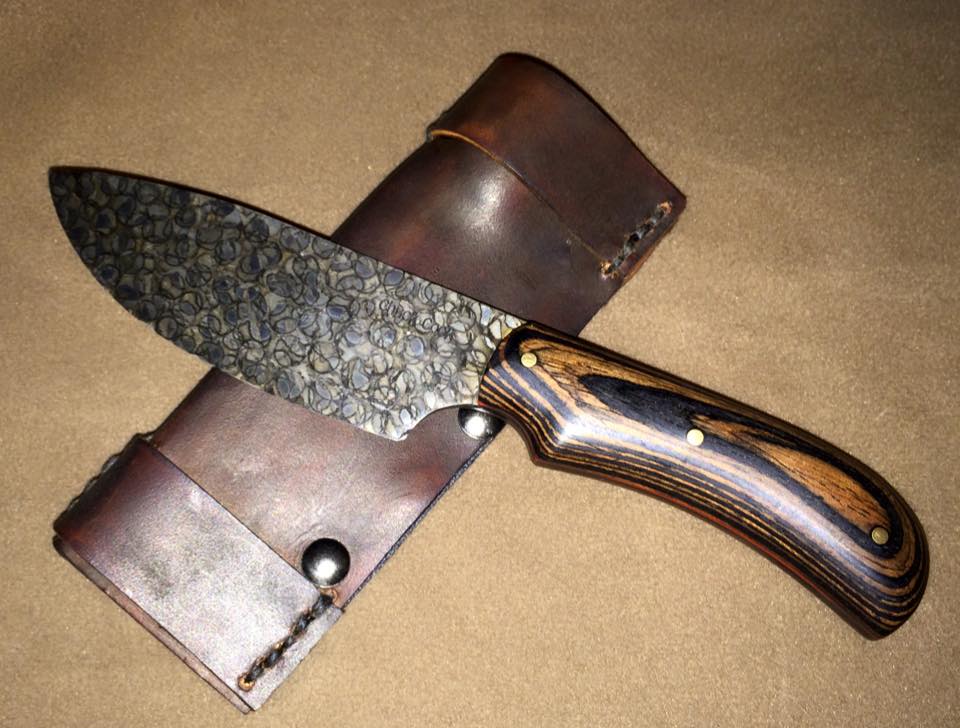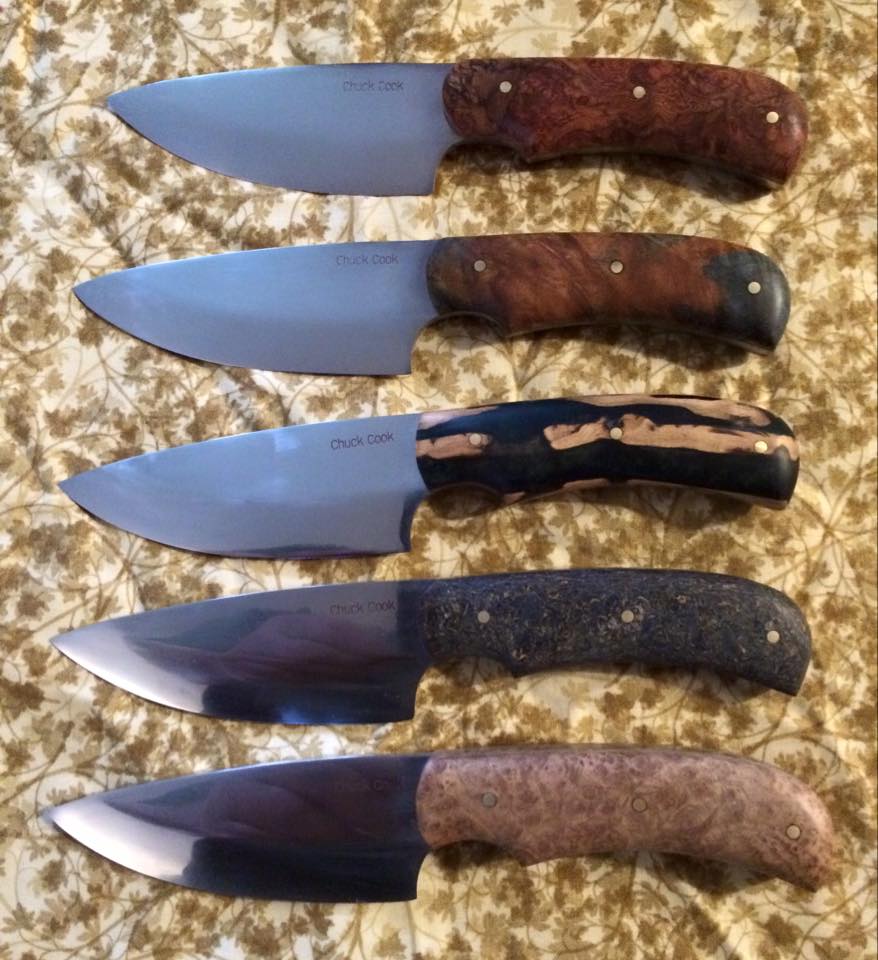 Mama Bear Kitchen Knife
My wife has a page called Mama Bear Survival, this is here kitchen knife. 1/8" thick, 5' long and 1.25' wide at the widest spot. 1095 blade.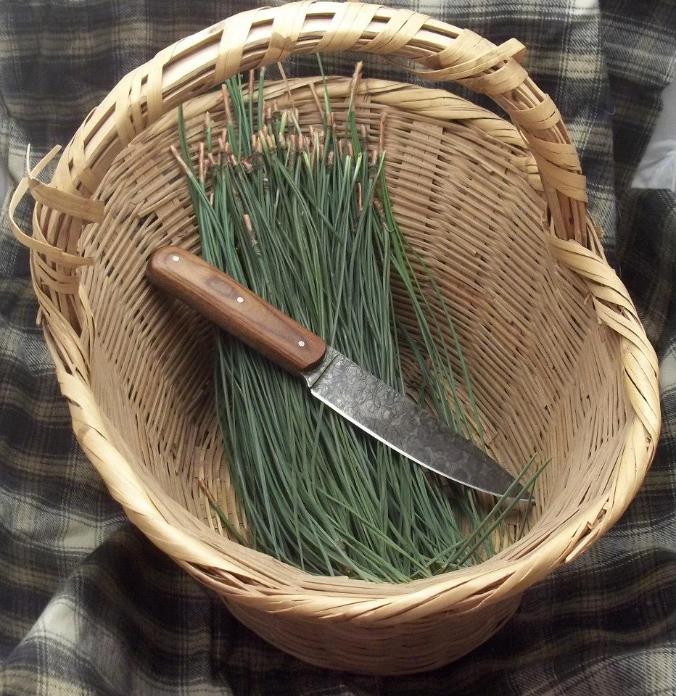 Bush craft Knife

Traditional styling with a five inch long o1 tool steel blade. It has a mustard patina to help prevent rusting. The narrow point helps you get into tight places and the blade has a continuous curve to help with slicing.

The handle is walnut and is held in place by two 1/8" stainless steel pins and a 5/16" stainless steel tube.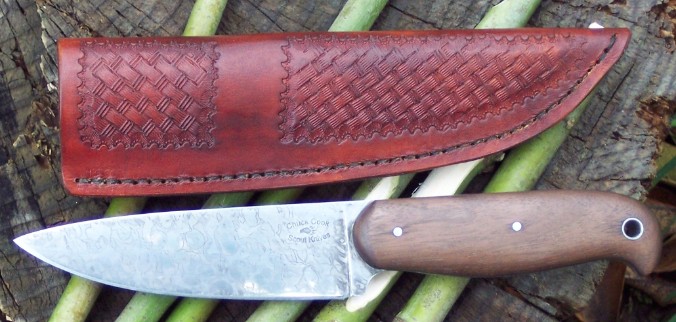 Down Range Bowie
This large 10.5" blade bowie is made from 1084 spring steel with brass "S" guard and a walnut and white tail deer crown. The crown. The sheath is of a mountain man style and was made to the customers specs.
Forgive the fuzzy pics, I was under a tight time line to get it mailed.



And a picture of it in action, identities have been hidden to protect the innocent as well as the guilty.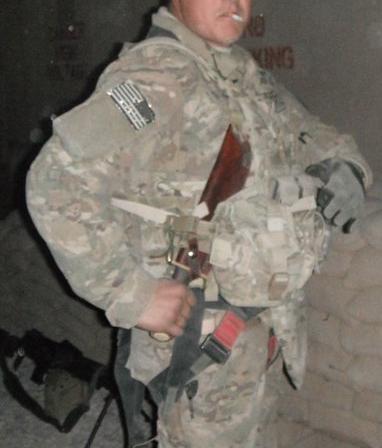 Bud's Bowie
Forged for 1084 spring steel, this 9.5 inch long bowie blade, machined steel guard and steel butt cap. The handle is of brown canvas micarta. The blade has a mustard patina.


The Standard
I call this model my standard because it is the knife I took to my Standard class at Tracker School. In the second picture the knife with the cord wrapped and epoxy soaked handle is my personal knife, it is chisel ground because I like them, but production models are traditional full flat. The Production model has a little wider blade and handle but not by much, I found this helps in splitting wood. This one is made of o1 tool steel and has a mustard patina on it. The sheath pictured is what I call my "utility sheath", it has a kydex liner that can be removed to make it a neck knife, or be hooked onto duty gear. The leather outer is set up for horizontal carry, but can be converted to vertical carry.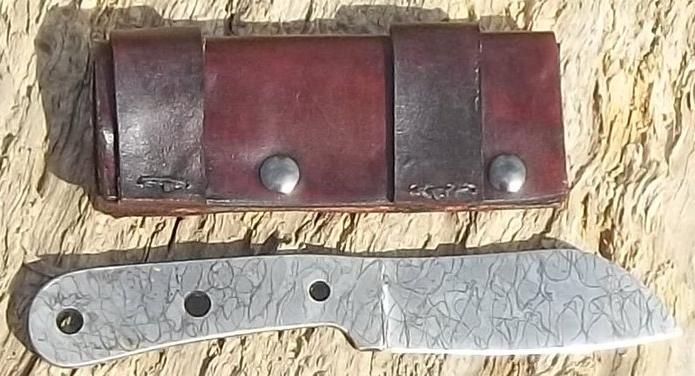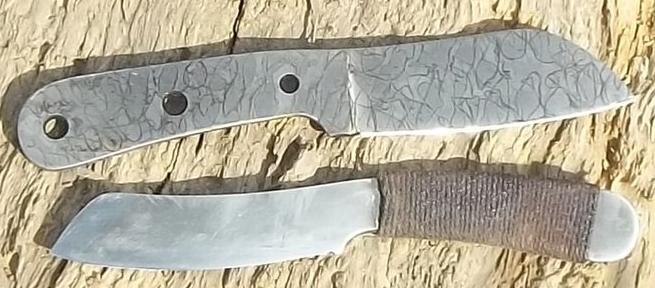 4" standard
I was asked by a police officer to make a copy of my personal knife but scales up to a 4" blade, and that's just what this one is. It's flat ground both side from o1 tool steel, black cord wrapped and epoxied handle.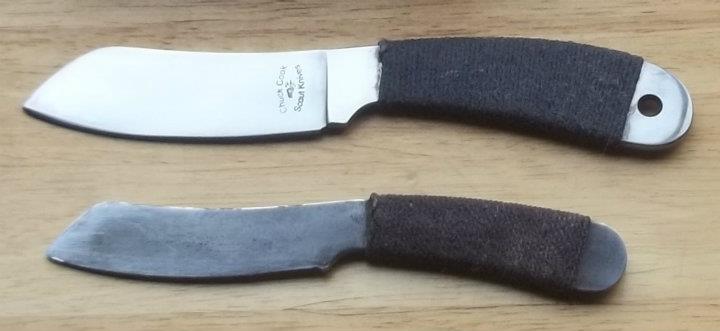 Standard G2
This knife is a scaled up version on the knife I carried with me at Tracker School for my standard class. It's a sheep's foot pattern with some belly making it a great skinning, carving, and muli-task knife.
Blade is 9/64" thick O1 tool steel the blade is 1.125" wide, 4" long, and overall length is 8".

Green micarta handle with 1/8" SS pins, Kydex sheath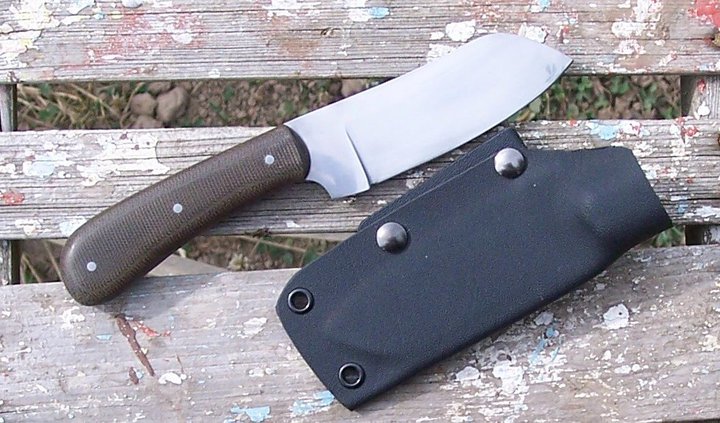 Big F Knife (BFK)
Some people say the "F" stands for fighting some for field others say it stands for F'ing, I say yes to all three. They can be had with blades from 6" to 9", in 3/16" or 1/4" thick.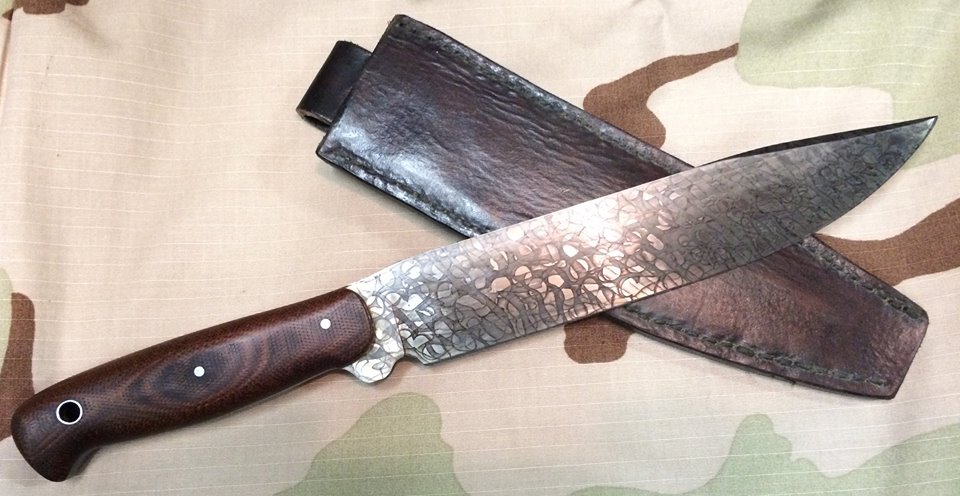 6" BFK
Featuring ivory paper micarta handle held in place with two 1/8' SS pins and a 5/16" SS thong hole tube. The blade is 3/16" o1 tool steel 6" long ans 1.25" wide. Flat ground with an edge bevel set to 20 degrees for a very sharp edge.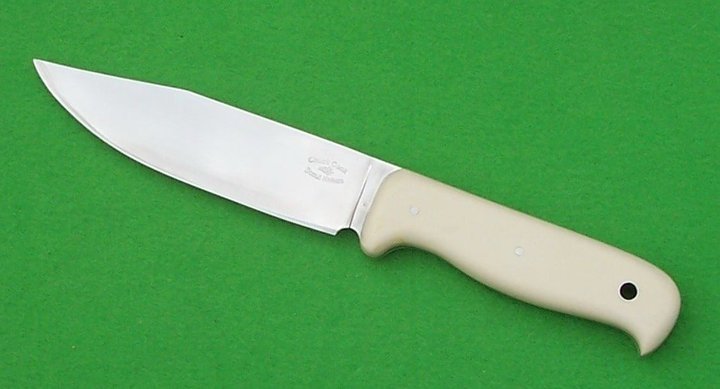 Small Hunters Bowie
O1 tool steel blade: 9/64" thick; 1.25: wide; and 4.75" long. Knife overall length is 9.375".

Micarta Handle with SS 1/8" pins
Black Kydex sheath with leather belt loops. The loops are good for things like MOLLE straps and wide belts.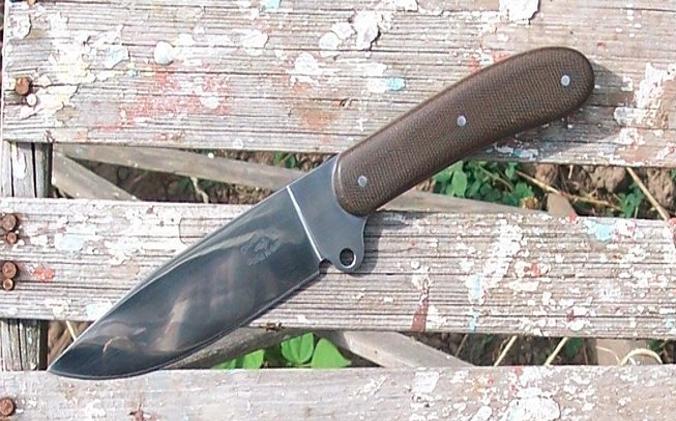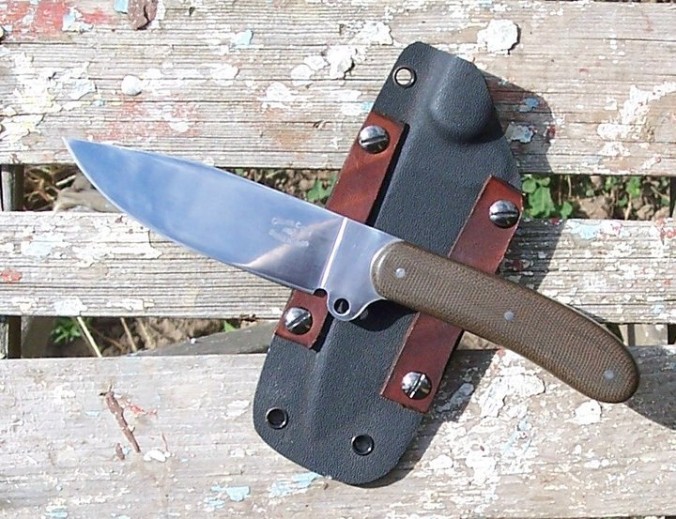 Cree Hunter
Forged W1 tool steel blade .25" thick, 1.125" wide blade, and 5" long.
Brass fittings
Elk leg bone handle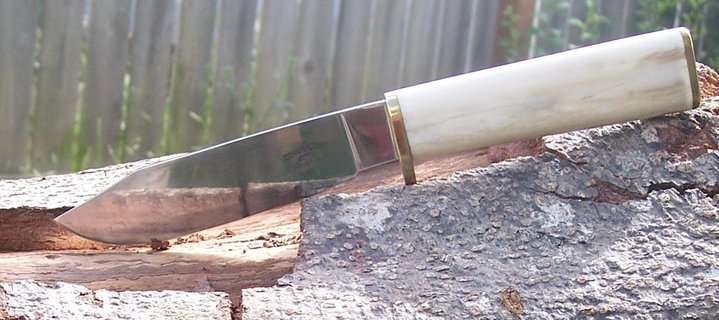 Gambler's Bowie
Hand forged wire Damascus blade: the blade is 6" long, 1" wide, and about 3/16" thick.
The guard and butt cap are forged and blued fittings, with an elk leg bone left natural in color for the

handle.

Maple and deer antler hunting knife forged from logging cable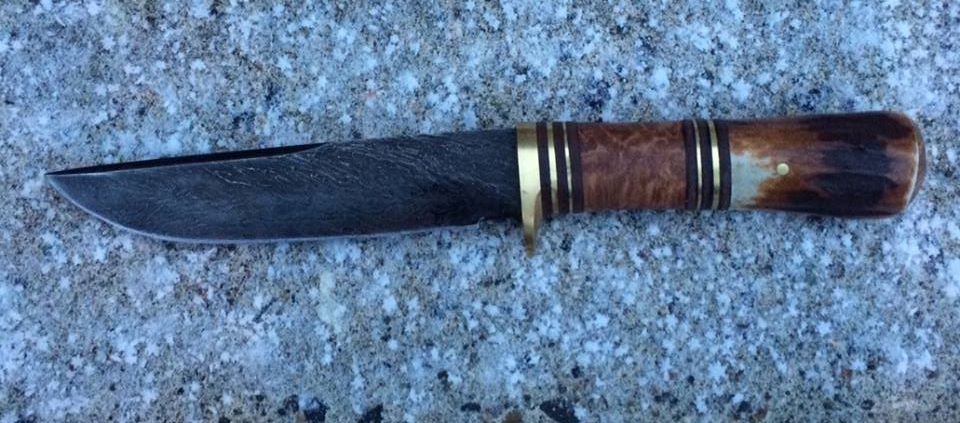 4.5" Hunter
4.5" long 1.125" wide 1095 hunting knife with mustard patina in a stripe pattern.
The handle is stabilized lace wood with three 1/" stainless steel pins. It has a matching fero rod for starting fires.
The sheath is .09 kydex.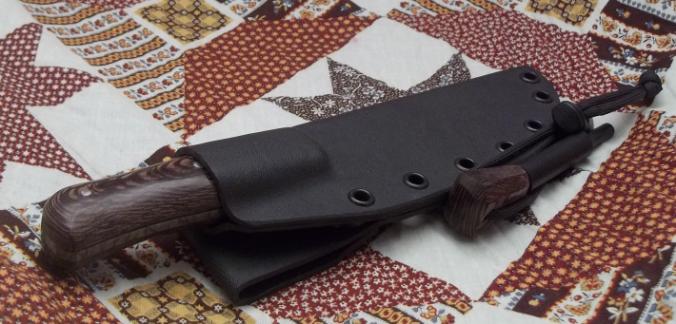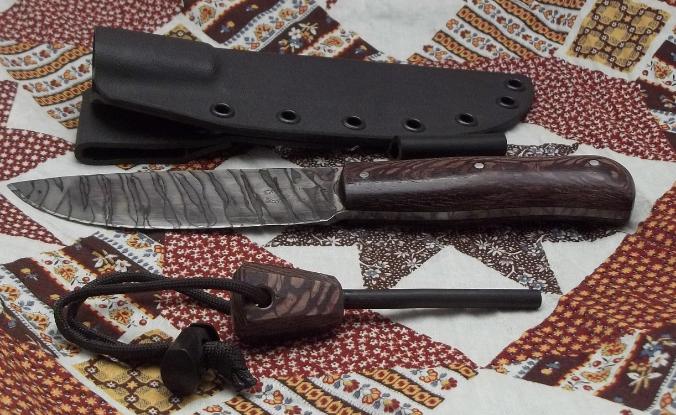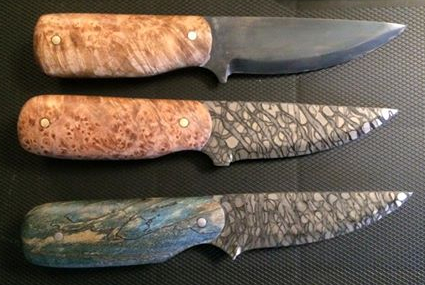 Round Nose Chopper
This light weight 6.5" long blade chopper was forged from an old file. The tip is fully sharpened making it prefect for push cutting (like a chisel).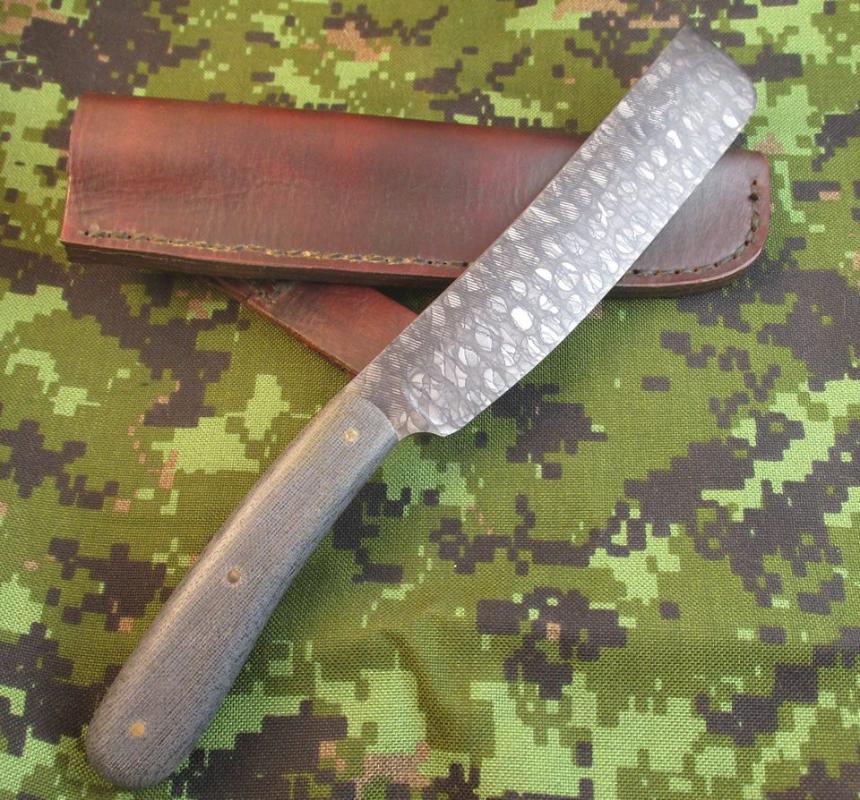 Bull nose chopper
Forged from 1084 spring steel
Blade is 1/4' thick and 9" long, and 1.5" wide at the widest spot, with a total length of 13.5" The cutting edge is set to 30 degrees for strength but don't let it fool you I have still put a shaving shape edge on it.

Handle is black micarta with SS tubing.
Heavy duty leather sheath with holes for tie down at the bottom. I call this sheath my model "1982".

In the blade you can see the refection of the grass.