The hand axe was originally a bifacial (meaning shaped on both sides) stone tool and is the longest-used tool of human history used for cutting and chopping chores. The Scout Knives hand axe is made from 5/32" 1095 spring steel and has been parkerized to help protect it from rusting. There are four main ways to use this tool, they are: hand axe; chisel; axe; and adzes.
Below is a printable two page document that covers putting it on a handle and even a few outdoor tips. I'm going to start printing a water proof version of this for sale, but you can print your own for free.
People often ask how you get a handle for your hand axe when the only tool you have is the axe. All you need is a pair of gloves and about a minute of time.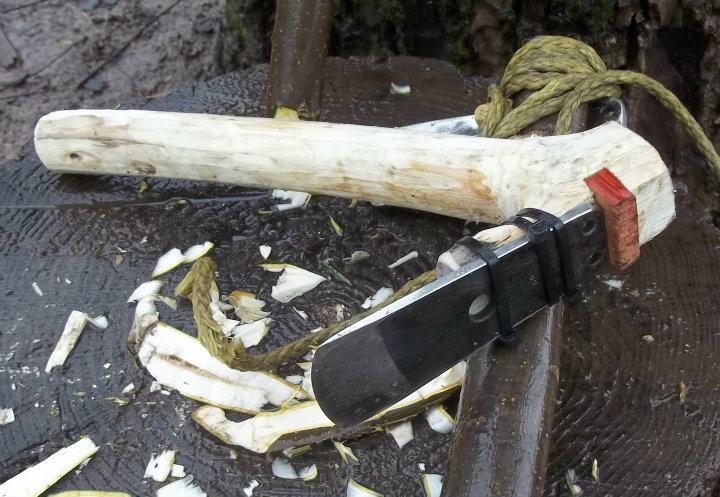 The Bundle Handle
This is the fastest easiest handle to build, the only downside is that it takes more para-cord to wrap up the handle. The one pictured is made up of seven sticks of 1/2" or smaller, they we easy to chop up quickly. I use a 25' piece of para-cord to wrap it up, could have been done with a 15' piece but didn't want to cut the cord. For me this a transitional handle on the way to a advanced handle.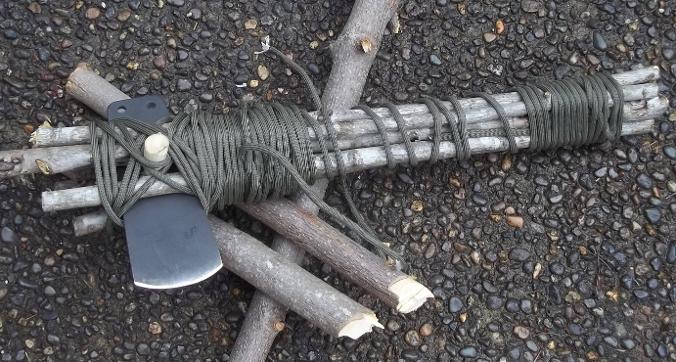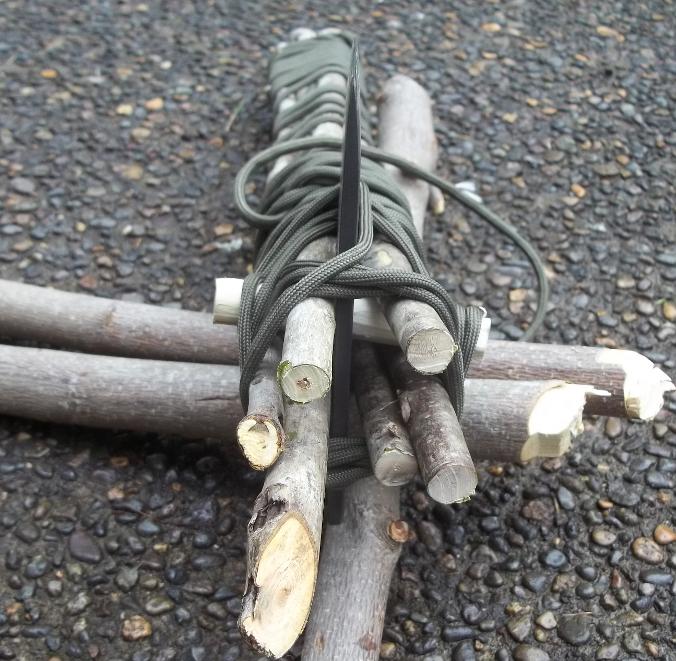 Advance Handle Plans
This handle takes more time to put together then other ones, but is well worth the effort. Because of the added time you might want to start with a simple handle first and then upgrade to this one in a survival situation.
1. Start with a 1.5" diameter green branch for a handle, this can even be the first handle you have. Use the Axe head to split the branch.
2. Put a "V" shaped notch where the front pin goes. If you look you can barley see it in the picture below.
3. Take a 1" green branch and split it into fours, it needs to be about three to four inches long.
4. With the blade in place set one of the four pieces on each side of the handle and mark for the cuts.
5. Cut the notches into the handle like the picture below.
6. Install the sticks and wrap it up. 550 cord works better then anything else for warping the handle.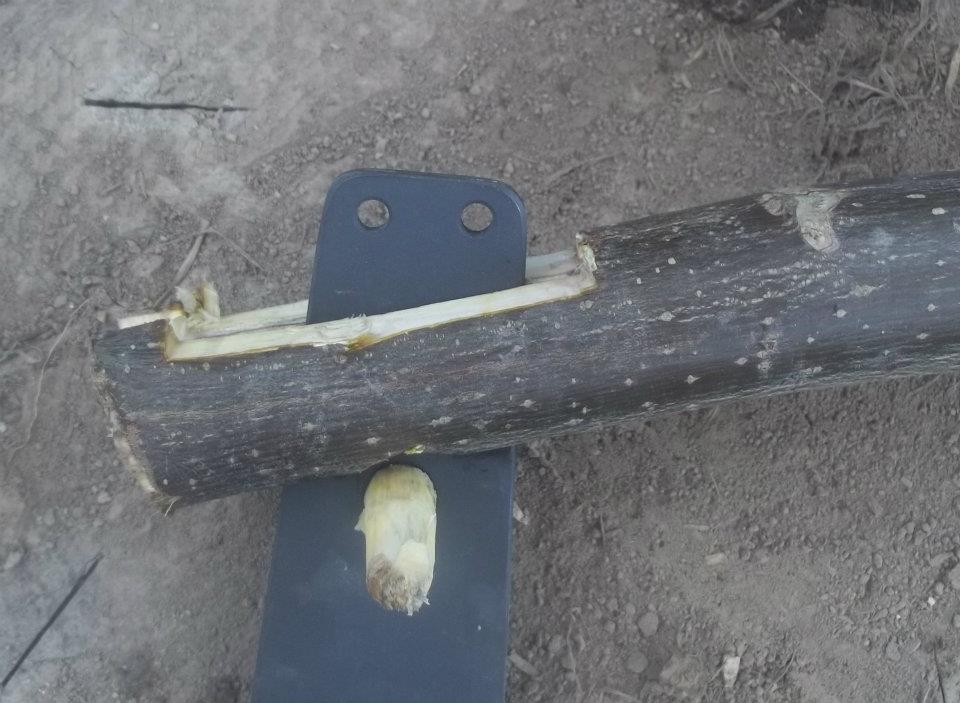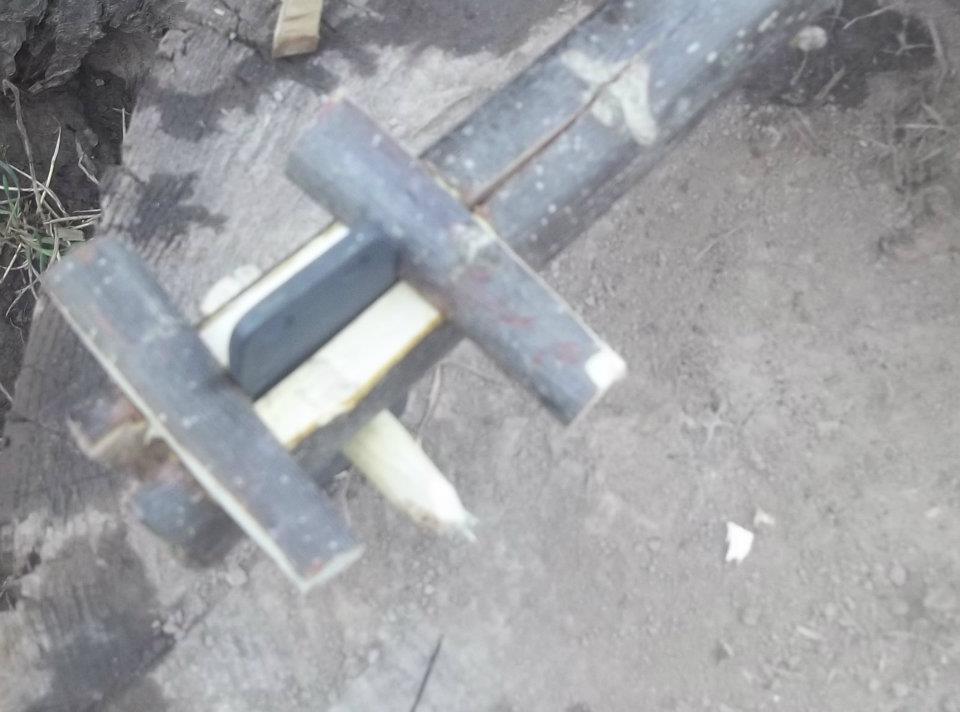 This is a picture of the whole set up after I chopped the pressure treated 2x4 in half with it. There is a lot of extra 550 cord on the handle in this pic, because I didn't want to cut the cord that I keep in my pack.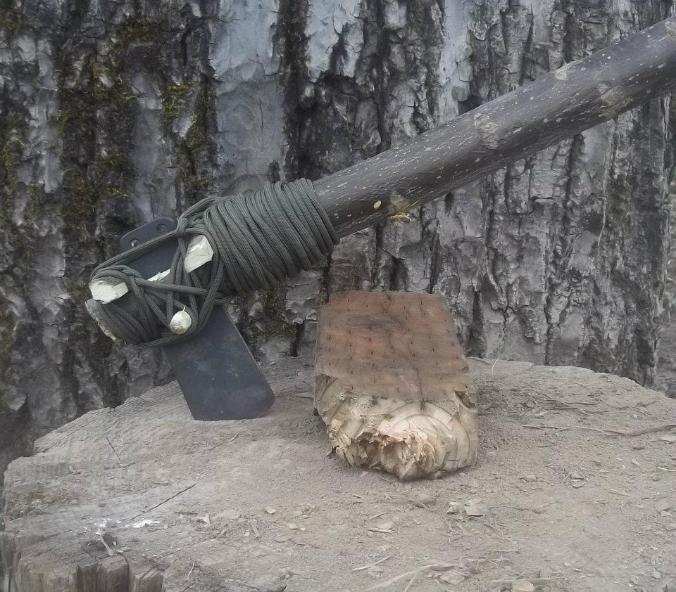 And just having some fun with it afterwords.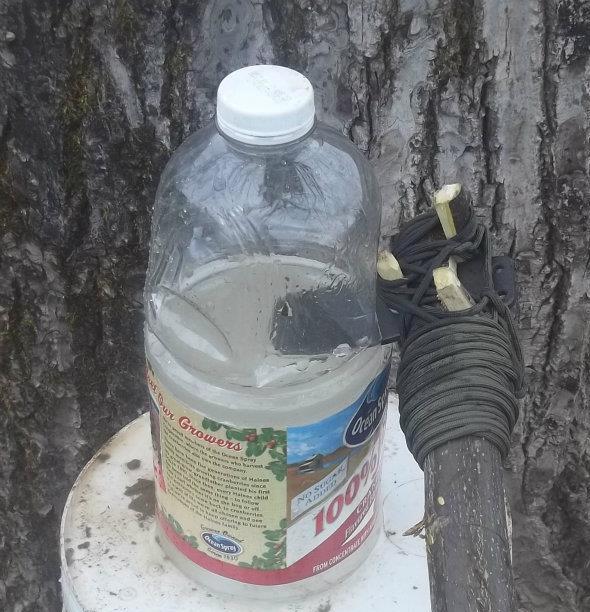 survival mint tin axe,
I make them 1084 spring steel. It is 3.5 x 1.5 x .125 the center hole is 7/16 back two holes are 3/8 of an inch. While I normally take my knives to a high polish but I left these as a machine finish. weight roughly 3 ounces.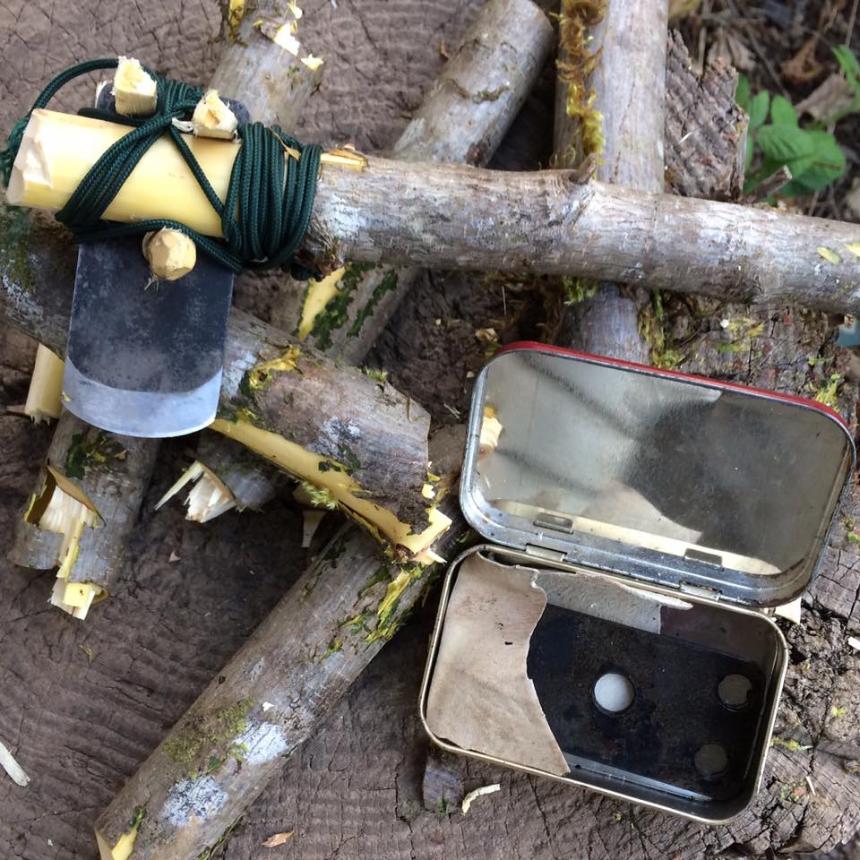 A Quote from Guy-Fawkes on a forum about the Survival Tin Axe
"Best damn pocket tool money can buy. I bought a second after having misplaced my first .... found in my Kit Bag, so now I have two! I started EDC the spare and love it. Grab one and I guarantee you won't be disappointed. Best of luck and kind regards."
The best way to sharpen a hand axe or in the case of the picture a CRKT Persevere is a Lansky sharpener. Put the bolt through the center hole as close to the back of the tool as possible. I sharpen large ones at 30 degrees and tin axes a 25 degrees.